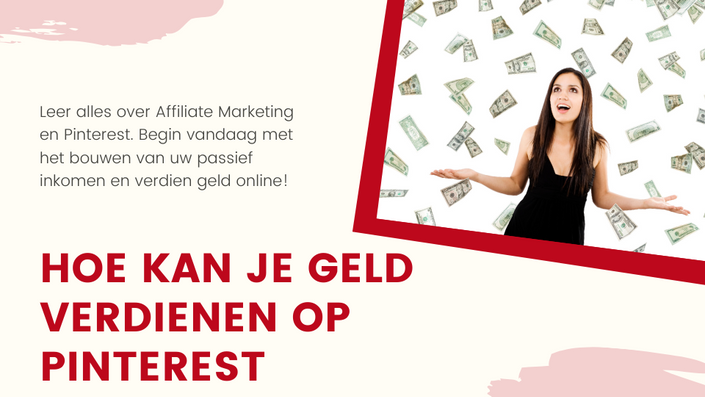 Hoe kan je met Affiliate Marketing geld verdienen op Pinterest?
Een stap voor stap uitleg hoe je geld kan verdienen met je Pinterest account!
In deze cursus leer je welke stappen je moet doorlopen om jouw Pinterest account klaar te stomen voor Affiliate Marketing. Je leert hoe je profiel eruit moet zien, wat voor een borden goed werken en hoe je dus geld kan verdienen met jouw Pinterest account.
Ben jij het ook zat dat je Pinterest Traffic je niks opbrengt? Lijkt het je fijn om een extra zakcentje vanuit huis te verdienen? Met deze cursus leer je in no-time hoe je met Pinterest geld kan verdienen vanuit je luie stoel. Met maar een paar uur per week, kan het geld binnenstromen. In deze cursus krijg je een stap voor stap plan, handvatten om je Pinterest om te gooien!

Pinterest zorgt ervoor dat ik:
met weinig werkuren een passief inkomen kan verdienen.
minder hoef te werken en meer tijd heb om leuke dingen te doen.
meer bezoekers naar mijn blog trek.
mijn dromen kan na jagen.
Hoe ik dat heb gedaan, dat lees je hieronder.
De Instructeur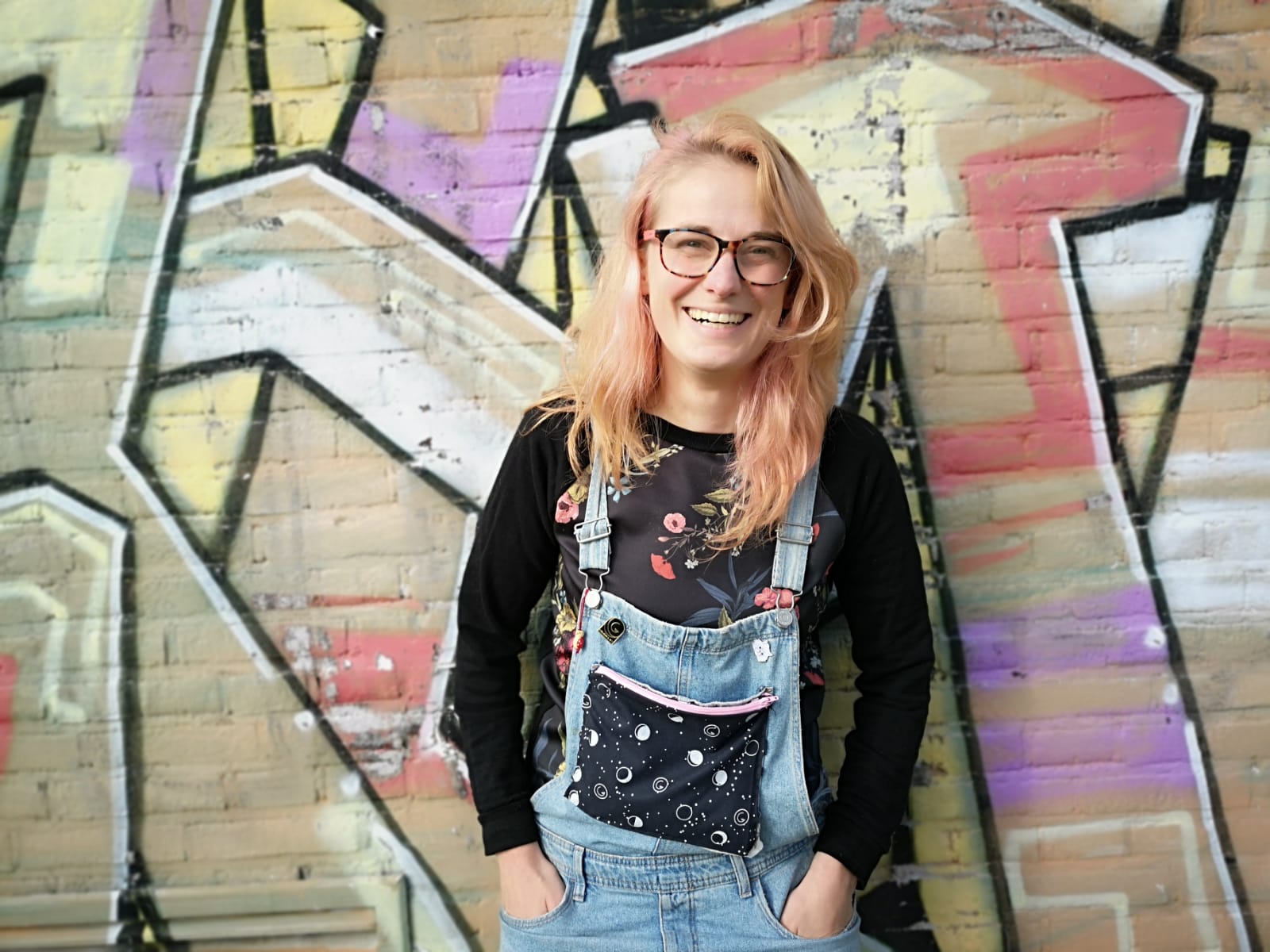 Hi, I'm Veerle Rümke and I'm going to tell you how to make money with Pinterest here.I am a great believer in: turning your hobby into a job and thus following your dreams. I have done this several times with different hobbies. It started with the fact that I loved organizing events. I often did this from my scouting background and often organized fun activities for friends. I then went to work at an event agency because I enjoyed organizing so much. Then I started volunteering at festivals. I enjoyed being creative and enjoyed it every time a new festival family was born. After years of volunteering, I was asked to work as a paid worker. In the meantime I have been working for several festivals in the Netherlands for several years and I still enjoy my work every day, which started as a hobby. And now Pinterest has also become an out of control hobby. I have used it for years to plan vacations, to spread my blog posts and to discover new blogs. Back in the beginning of 2018 I decided I wanted to make money with it and I have succeeded. Nowadays i make a consistend couple of hundred euro a month. Now it is time to share my knowledge about Pinterest and I would like to share it with you. Pinterest can generate a passive income that gives you the freedom to do whatever you want.
In deze cursus leer je onder meer:
Welke affiliate programma's er zijn
Welke onderwerpen populair zijn op Pinterest
Hoe je makkelijk nieuwe pins kan maken
Waar je rekening mee moet houden als je jouw Pinterest Strategie bedenkt
Hoe je Pinterest automatisch kan laten doorlopen als jij druk bent met andere dingen
Welke tools je kan gebruiken voor jouw Pinterest strategie
Neem hieronder alvast een kijkje in welke thema's allemaal aan bod komen.
Cursus Curriculum
1. De basics
Available in days
days after you enroll
2. Keywords
Available in days
days after you enroll
3. Profiel
Available in days
days after you enroll
Veelgestelde Vragen
Wanneer begint de cursus?
De cursus begint zodra je je ingeschreven hebt. Je krijgt meteen een mailtje met je inloggegevens en je kan meteen aan de slag!
Hoe snel kan je geld verdienen met Pinterest?
In theorie is het mogelijk om vanaf de eerste dag geld te verdienen. Maar eerlijk is eerlijk, realistisch is dat niet. Pinterest is een medium wat tijd nodig heeft. Het duurt meestal een week of 6 voordat een pin daadwerkelijk goede reacties krijgt. Daarnaast heb je in het begin ook nog niet heel veel pins waarmee je geld kan verdienen. Hoe langer je het doet, hoe meer pins je hebt dus hoe meer geld het kán opleveren. Wanneer je in de eerste 2 maanden er ongeveer 2 uur per dag aan besteed, zou je het cursus geld al terug moeten kunnen verdienen, wanneer je het schema van de cursus volgt.
Ik heb nog geen Pinterest account, is dat erg?
Nee, dat is geen probleem. Het betekent dat je iets meer tijd bezig bent met het creëren van traffic op je account. Het voordeel daarvan is dat je je account meteen zo kan inrichten als je wilt. Je hoeft ook geen 100 volgers te hebben als je begint. De volgers komen vanzelf wanneer je eenmaal bezig bent.
Ben jij het zat om:
Elke altijd op je uitgaven te moeten letten?

Altijd per uur uitbetaald te worden?

Geen geld met je blog te verdienen?
Dan is deze cursus iets voor jou!